How to Record A Guitar Amp - Mic Positioning
How To Record Your Guitar Amp - Microphone Position
Having expensive studio gear and microphones is useless if you aren't using them correctly. A vital part of getting that professional studio sound when recording is positioning your microphones correctly to get the most out of them.
You don't wanna end up like this guy:
Follow our guide and you might be surprised at just how good you can get your guitar recordings sounding.
What Tone Do You Want?

Do you want a crips or soft tone? Do you want an emphasis on the low-end or do you want it nicely balanced? Knowing what type of tone you are after is the first thing to decide before placing your microphone anywhere near the amp.
Once you have decided what type of tone you want, have a play with your amp settings/equaliser to get your desired tone. If this isn't right from the start then your studio sessions are going to be so much harder than they need to be.
Microphone Placement

You can put your microphone anywhere near the amp and it will pick up sound. But finding that sweet spot can make all the difference, and you'll be glad to know it's not too hard - it just takes a big of experimentation. Take note where your speakers are positioned in your cab - not all of them are slap bang in the middle.
Pretend you are looking directly at the amplifier's cloth. Let's talk about going side-to-side. As a rule of thumb, placing the microphone in the centre of your amp gives you a bright and crisp tone, whilst bringing the microphone off to either side will give a softer, more subtle tone.
Now, if we are going backwards and forwards, the closer to the amp's cloth you get, the more low-end thump you are going to capture. Some guitarists like this boosted bass sound, whilst others prefer a bit of distance away to get a more balanced, all-round sound.
Original Photo Credit: Felixe
For example, this microphone is resting against the amp cloth, and will therefore have a very strong low-end presence with quite a 'thump'. Not the tone that most people desire, but if it sounds good to you, then by all means give it a go.
This guy has backed off from the amp cloth by about 2-3 inches which will drop off some off that bass, but will still have an emphasis on the low end. As his amp is a 2x12" combo, it looks like the microphone is positioned directly in line with one of the speakers, meaning this will produce quite a bright tone.
Photo Credit: Derek K. Miller
If you are recording something with two speakers like in the picture above, a cool technique is to use two microphones (one for each speaker) and pan one to the left and one to the right. This will produce a very 'open' and full stereo listening experience.
If you want to go for a very bright, crisp tone, try backing your microphone off at least 5" from the cloth.
Our Example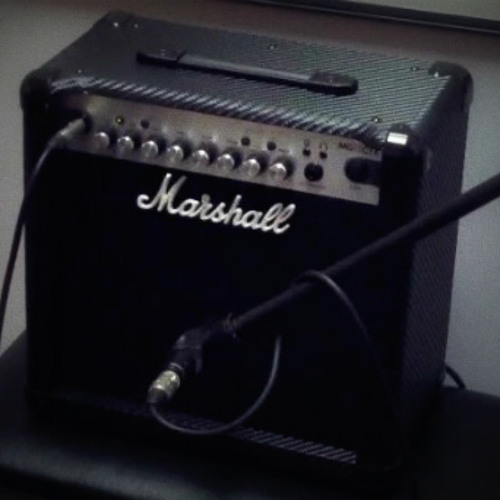 We had fun recording the budget Marshall MG15CFX practice amp, to see if we could get some 'studio' quality sounds for under £100. We used a Beyerdynamic M201 TG microphone and decided to position it about 1" away from the speaker, directly in the centre of the speaker. 
Here is how it sounded on a few different settings. Not bad for a little 15 Watt solid state!
The Golden Rule
If you are taking anything away with you from this guide, let it be this: it doesn't matter what you do, as long as it sounds good. Some sound engineers have came up with some wacky ways to get a certain sound, and you don't have to follow any 'set' rules.
So now it is time to go and have an experiment, using the idea that closer = bassier and center = bright. You can read as many guides as you want, but the best way to learn is to do it yourself and experience the difference that mic placement has.
Do you have any tips for recording guitar amps? What is your favourite microphone position? Let us know below!