Tips & Tricks: Using The Numark NS7 Controller
Designed by Numark in collaboration with Serato, NS7 represents the pinnacle of DJ performance control. NS7 combines an all-metal chassis with adjustable torque, motorized, aluminum-turntable platters, vinyl, and a professional audio interface to deliver a complete performance solution that will satisfy even the most hardcore turntablist.
In this article, you'll learn about some big performance tricks for NS7.
Manual loop slice and stuttering
Strip Search virtual needle drop
Instant doubles and beat juggling
Live sampling and remixing
Sharing NS7 between DJs
Manual Slice and Stutter Loop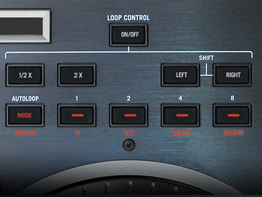 CLICK THE PLAY BUTTON FOR A SAMPLE OF WHAT THIS SOUNDS LIKE:

Here's how to create B-More House-style slice and stutter loop build-ups with NS7:

Load a track to a deck and grab a 2, 4, or 8-bar loop

Use the 2, 4, or 8 buttons on NS7
If your track does not have a BPM or you prefer to use your own loop size, stay in manual mode and create a loop using IN and OUT

Divide the loop until you are down to 1 bar by pressing 1/2X as many times as needed. This cuts the size of the loop in half each time.
Press MODE to get into Manual Loop Mode (or stay in Manual Loop Mode.)
Optional: Press MOTOR OFF. This will allow you to edit the loop with more control without fighting the motor.
Press LOOP OUT, which will allow you to move the end point of the loop manually.
Turn the platter slowly counter-clockwise and the loop will begin to get shorter and shorter.
You can get it as far zoomed in as a synthesized tone and open it back up again and tease the roll, creating a dramatic build-up effect.
When you're ready to release the loop, press Loop Control On/Off and the track will resume play.
If you turned the motor off, press Motor Off again.
Strip Search Virtual Needle Drop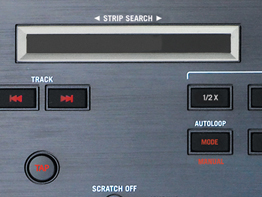 If you are coming from vinyl you'll love the virtual-needle drop functionality of Strip Search. This feature enables you to use your finger to glide to or jump to a specific point in a track, similar to dropping a needle on a record.

Press Play on Deck A or Deck B and place your finger on the Strip Search pad. You'll hear and see the playback jump to the position relative to the placement of your finger.
Think of the width of the Strip Search pad as the entire length of a song, so the middle point of the Strip Search pad is the halfway point of the song. You can also use a gliding motion across the Strip Search surface to create an audio scrambling effect, which lands at the point you move your finger to.

Strip Search is force sensitive, which means you could use your fingernail to get even more precise with where you drop the playback.

Instant Doubles

Instant Doubles is a feature that enables you to instantly load up (or double) the same song that is loaded on one deck to the other deck and at the exact same position.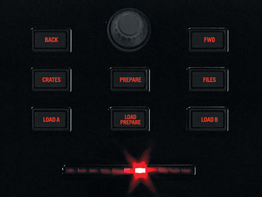 Press LOAD twice on the deck where you want to load the double. (So if you have a song playing on Deck A and want to double it over to Deck B, press LOAD on Deck B twice rapidly and both decks will have the same song playing at the same position.)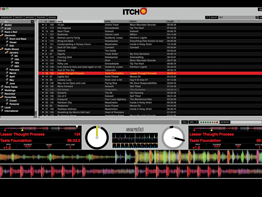 You can instantly start beat juggling between decks! This is also especially useful if you prefer to scratch on only one deck.

Live Sampling And Remixing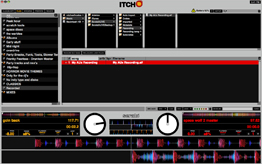 Using NS7's Aux and Mic inputs, you can sample external sources into ITCH and instantly load samples to a deck.

Connect a source (iPod, turntable, drum machine, instrument, booth output of a DJ mixer, for example) to the Aux or Mic in
Set the input source in ITCH to either Aux or Mix:

Mix records input audio with the main output audio together
Aux records only from the Aux or Mic input

Click REC in ITCH
Type a name for the sample into the Name box to the right of the REC button and press SAVE.

You can access this sample from your Recordings Crate using NS7's Scroll Knob.
Transitioning Between Laptops Live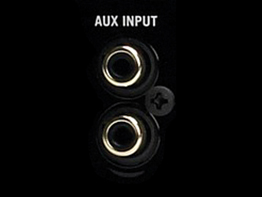 NS7 is designed to enable multiple DJs to share a setup so as the night progresses, there is no break in the music between DJs.
While either deck is playing in ITCH, connect an audio source you want to play during the transition, such as an iPod or CD player, into the Aux input on the front of NS7. Don't forget to set the GAIN and EQ
The Aux input passes straight to the Master Outputs so you may want to fade in the source using the GAIN knob.
Fade down both decks' channel volumes to zero.
Stop playback on both decks.
Launch ITCH on the second computer.
Detach the USB cable from the first computer and attach it to the second computer.
Within ten seconds, NS7 will be recognized and enabled in ITCH
Perform!
We hope these tips give you some ideas to try with NS7. Be sure to keep reading for the latest!