Elvis Presley - the King's guitars...
Today is the 30th Anniversary of Elvis Presley's death. He died at Graceland on 16 August 1977, aged 42. Thousands of fans will be remembering his life and music today. Here's a look at some of the guitars he used...he was the King Of Rock, after all!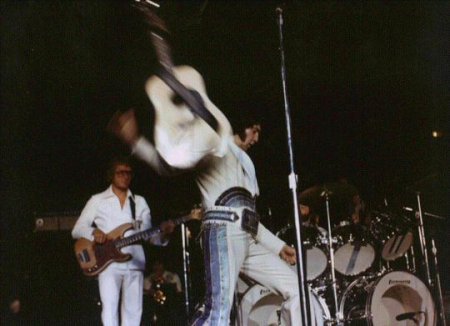 According to Elvis Presley's guitarist, the influential Scotty Moore, the King was not a great musician, but had an amazing sense of timing and rhythm. Apparently, he also had a very aggressive strumming style and would break strings often. In the early days, Elvis' rhythm guitar was an important part of his sound, and throughout his career he's used some of the finest guitars money could buy. Here's a quick look at some of them...
Martin 000-18
This guitar was used in his first gigs in 1954 and recordings. It has a smaller, auditorium body size, similar to the 000-16. Legend has it that the guitar was resold to a Memphis vacuum cleaner salesman days later again for $79.50, later in '54.
1942 Martin D-18
Elvis traded his modest 000-18 for a Martin D-18, a classic model. The Martin D-18 Dreadnought Acoustic Guitar is a traditional-style dreadnought that features a rosewood fingerboard and bridge with black binding and pickguard. The D-18 was used for performing and recording until sometime between June 10 - 18 of 1955. On May 14, 1993 it was sold at auction by Christies in London to Michael Malone for $151,700 who then had it on loan in 1998 to the Rock and Roll Hall of Fame. It is currently on display at the corporate offices of DMX Music, Inc in Seattle, WA.
Gibson J200
One of the most popular acoustic guitars ever, everyone from Bob Dylan to Beatles to Oasis have used one. And of course, so did the King - the Gibson J200 was widely used by Elvis, especially in the 60's. It all started in 1956, when he started playing the J200 because Scotty Moore was endorsed by Gibson. Elvis has been seen countless times playing a J200, including in his films. If there's a trademark "Elvis Guitar", this is it. No wonder then, that Gibson actually made a J200 Elvis Signature Model!
1969 & 1970's Gibson Dove
The King is known to have used a couple Gibson Dove acoustic guitars in the later days of his career. His customized Gibson Dove with an Ebony finish, was one of the most photographed and well known guitars in his performing career due mostly to the use of it on the January 1973 worldwide broadcast via satellite "Aloha from Hawaii". During a show in Little Rock, AR on April 17, 1972, one night before the last show of a tour a member of the audience there that night recalls Elvis fumbling with his "guitar at the end of 'See See Rider' and it fell and broke off at the joint of the body/neck and he just kicked it off the stage saying I really didn't mean to break my guitar..."
Elvis Presley also used electric guitars, and here's the two most notable ones:
1968 Hagstrom Viking II
The Hagstrom Viking is a really cool and hard to find guitar now. The Hagstrom features here because it was used by Elvis for the classic 1968 TV Special, "Elvis", but it didn't actually belong to him - the guitar in fact belonged to Al Casey, who was one of the session players on that show. Hagstrom, a company from Älvdalen, Sweden that primarily exported accordions since 1921 began building and exporting guitars in the 1950s, mainly to the USA. Manufactured only in 1967 and 68, only 1350 of this model, the Viking II, were said to have been produced. Here's a very cool video, where you can see Elvis playing this guitar:

"Baby What You want me to do" on YouTube

1964 Gretsch Country Gentleman
Finally, it's worth mentioning his Gretsch Country Gentleman, certainly one of the finest guitars money can buy, which Elvis used during most of the 70's in his live performances. Gretsch® introduced the famous Chet Atkins Country Gentleman guitar in 1958 as a high-end complement to the popular 6120 Chet Atkins Hollow Body model. The Country Gentleman became an immediate hit, and was heard on many hits in the late '50s and throughout the '60s (and beyond) not only by Atkins himself, but by legions of players who emerged from the British Invasion and '60s guitar boom (notably The Beatles' George Harrison) who revered it for its terrific and elegant sound, look and feel. It was so big, so luxurious — and so rockin'!
Gallery:
Most of the info for this article was found on the excellent Scotty Moore Official Website, which has further infor on those guitars and more.